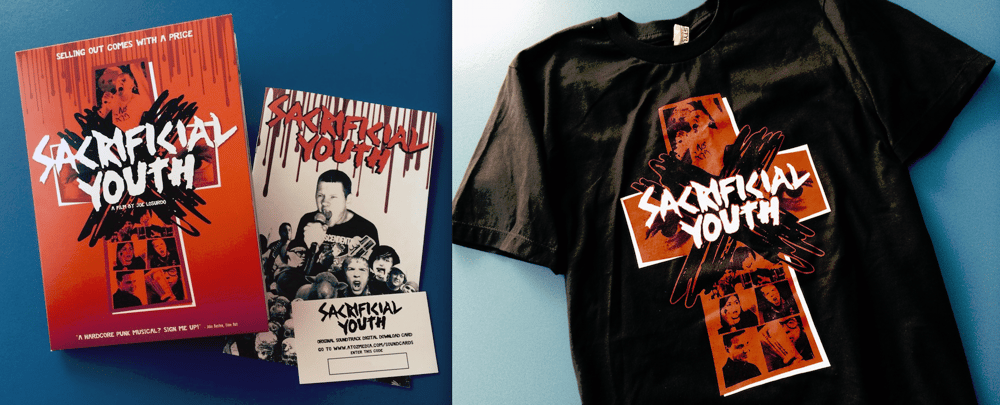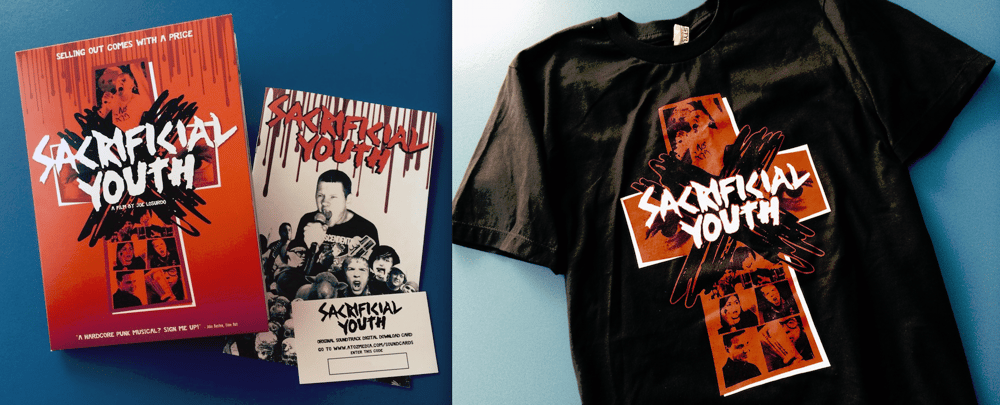 "Sacrificial Youth" Deluxe DVD plus T-Shirt!!! ON SALE!
$10.00 / On Sale
For a Limited Time Only, when you purchase the Sacrificial DVD you will get a free Sacrificial Youth 100% Cotton Black T-Shirt! Sizes available Small, Med, Large, XL and XXL (while supplies last). Only $10 plus shipping!!!
Sacrificial Youth is a Hardcore Punk musical that tells the story of TJ, a teenager caught at the crossroads. When a multi-national corporation hatches an evil plot of biblical proportions to destroy The Scene, TJ is forced to accept his fate as the chosen one to stand up and fight back.
This is the second feature film from Regressive Films, the folks that brought you the acclaimed documentary "You Weren't There-A History Of Chicago Punk 1977-1984".
Original soundtrack composed by Joe Losurdo and performed by members of Tutu & The Pirates, Strike Under, Mentally Ill, Life Sentence, Rights Of The Accused, Regress, Negative Element, Cursive, Nora O'Connor, the Goblins, and more.
DVD extras include a Fanzine lyric booklet, free download card for the film soundtrack, an Outtakes reel, Subtitles in Spanish, German and Italian, and a Commentary track by Director Joe Losurdo and actors Rob Bakker, Mike O'Connell, Sam Porter, and John Kopanski.
To be released 11/08/2014